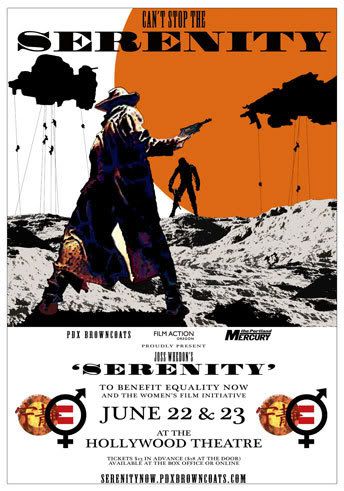 We're coming up on the Can't Stop the Serenity screenings, so here's the latest announcement on the Portland event.

We're pleased to announce that Scott Allie -- Joss Whedon's editor at Dark Horse Comics -- will be our guest for the Friday night screening. Among other things, Allie worked on Serenity: Those Left Behind and the forthcoming Serenity: Better Days, and edits the current Buffy: Season 8 series. Our thanks to Allie for wanting to help make this year's events in the Portland of Oregon, birthplace of the charity screenings movement, even better than last year.

Doors open for pre-screening activities at 7:00 PM [Friday, June 22 at Portland's Hollywood Theatre] and programming begins at 8:00 PM. Tickets are $13 in advance and $18 at the door on the day of show, and are available online or at the Hollywood Theatre box office.